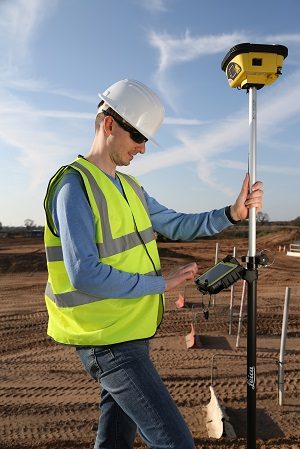 The new iCONstruct field solution enables fast interpretation of as-built structures versus design to support foremen and field workers to manage their jobsites more independently and efficiently. Two key products are the new, robust 7" Leica iCON Controller CC80, the smallest and lightest controller on the market with outstanding outdoor visibility, and the enhanced iCONstruct field software v2.5, supplying easy-to-understand, real-time project information.
Highly sophisticated building and road design are now easy-to-understand enabling non-surveyors to also measure or layout design on-site. The simplified and clean layout of the field software allows operators extremely intuitive operation using real-time design data with in-vehicle features such as cut/fill comparisons or volume calculations. Surveyors are freed of time-consuming tasks, which can now be easily carried out by construction crews, who are always present on-site. Surveyors now need only provide the correct data and tasks to ensure project quality, after which construction teams can remain productive and more independent, with faster quality checks and better job progress understanding on job sites.
Simon Currie, Senior Project Supervisor, Taggart Earthmoving Ltd says that the Leica iCONstruct solution is intuitive to use and can be learned quickly and competently, "This allows us to manage our jobsites more independently and efficiently. So we reduce downtime, increase productivity, and reduce outgoing costs". Simon also mentioned, "The main difference and benefit to Taggart was the ease and speed of going through the files to get to the stakeout and volume reports quickly. Leica Systems are very contractor friendly for the guys in the field. The system allows them to easily access and send accurate reports to their Project Managers".
Find out more information on how you your Site Foreman can this new solution to conduct simple survey stakeout tasks, as-built checks, cut & fill measurements and quantity checks themselves, without hiring a Surveyor. The Foreman can easily produce stock pile and volume calculation reports which are clear, concise and professional. These reports can then be emailed back to the office and used as supporting evidence for payment claims.
To find out more about the iCONstruct field solution, please go to:
Watch this video for more information: