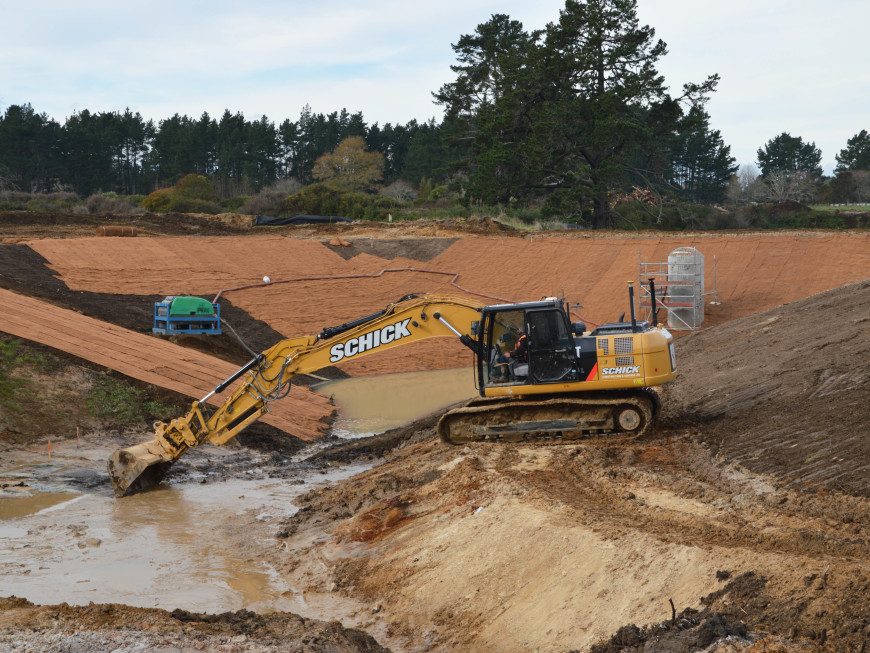 Being early adopters of technology including machine control and GPS-based survey systems is a good way to overcome the contracting industry's inherent skill shortage says Patrick Peoples, Managing Director of Schick Construction and Cartage of Te Rapa. While fewer people might be employed on a project nowadays, technology can help bridge the gap in available resource and increase the accuracy of the finished product.
Since he started with the company in 2000 Schick has grown from a company with a $4.5million annual turnover to one in excess of $45million.
Patrick believes in continually investing in his staff and maintains a constant focus on staying at the forefront of the industry. Keeping his fleet and staff as productive as possible also means sharper prices for clients and a well-trained and motivated workforce.
The company is constantly looking at ways to keep ahead of competitors – something they believe they've found with Leica machine technology. Patricks says New Zealand distributors Global Survey Ltd work hard to ensure Schick get the best products to fully integrate across their fleet and sites to deliver reliability, ease of use and "exceptional" after-sales support.
In practice, this means everyone on the survey team knows how to operate the software, and systems are in place to ensure project data is retained so that they can quickly and easily come back to projects that could have been started several years earlier. Schick Siteworks Divisional Manager Mark Dawbin acknowledges that while every technology has limits, once these are understood it's a lot easier to optimise staff and machinery performance, project delivery and ultimately profitability.
Schick often find themselves with more advanced technology than other industry participants. Clients are often excited over "clever" diggers that can deliver complex shapes without pegging says Colin Vette, Survey Manager of Schick. "They can't believe we can deliver a flat site for each dwelling on a subdivision, for example, using just one guy and a digger."
While CAD files from designers are already "heaps better" than those they received even five years ago, Schick's software is often more advanced. "Better original files mean it's easier to produce better quality machine control files," explains Colin.
It's also easier when potential problems are identified on site, because a unit can immediately be brought into the office and staff can calculate any savings or cost overruns immediately.
Schick's ability to cut complex shapes in one pass is consistently demonstrated in their award-winning projects.
In 2014 they won the Waikato Branch Contractors Federation Category 2 Award for their work on the Cambridge Wastewater Treatment Plant. The NIWA-designed oxidation pond system was already partially in place using a number of long ponds and required a new depth of 400mm. In their office, Schick modelled flow paths for 26 additional ponds of varying depths to ultimately deliver potable water.
Schick were required to not only cut the new ponds to depths up to 4.0m, but install PE liners and all in-ground pipework as well.
To achieve this up to three 3D GPS diggers and a GPS dozer were used to excavate and re-build the detailed ponds, with the finished surface then checked with a 3D model loaded on a rover. The site size constraints didn't allow for traditional surveying with pegs, as all useable space onsite was occupied with machines and materials.
"NIWA and Waipa District Council are working together to demonstrate the use of enhanced pond systems (EPS) to achieve cost-effective, efficient wastewater treatment," explained Rupert Craggs of NIWA. They had found that instead of the shallower 200mm ponds more commonly specified, algal growth to purify waste and remove pathogens and nutrients can be more effective at greater depths.
Final effluent quality at the site already exceeds current standards and is expected to meet any future conditions as well.
At the end of last year Schick completed a new roundabout at the intersection of SH 1 and SH 5 just south of Tirau for the NZ Transport Agency, replacing a very busy T-intersection. With 11,000 traffic movements per day on SH 1 and 3,000 on SH 5, this had been a dangerous intersection that a roundabout would help calm.
Some "creative" traffic management solutions were required to ensure traffic kept moving throughout the works and many re-designs. In the course of the project, the roundabout increased from 45m to 60m diameter and up to 1m realignment in places was required.
"We used a Leica iCON base, rover and machine control on our excavators, dozer and grader," explained Mike Keir who project managed the job. "The NZ Transport Agency had specified HiLab pavement construction, which is a relatively new way to create pavements using two layers of 65mm stone with three percent cement and added fines on a prepared sub-base. I believe we were the first to achieve 18 MPA strength on these sections."
This project won Schick the supreme award of the Waikato Branch Contractors Federation construction awards for 2015.
Slope stabilisation of a slip area in Hamilton was another recent challenge in which technology made the difference.
1600sqm of slope above the Waikato River needed to be stabilised and retained following an extensive slip. Using full rope access equipment, Schick's sub-contractor Geovert staff soil-nailed and meshed the area with bio matting, then hydro seeded, this all happened before Schicks could begin construction of a 21m boardwalk above the slip face. They then lifted and re-contoured existing paths to the new boardwalk, constructed additional new retaining walls up to 2.5m high, and replaced or strengthened existing walls. To pinpoint the location all the soil nails and retaining wall piles, a Leica robotic total station was setup at the top of the slip face and controlled by Schick staff on the walkway, while Geovert staff were in ropes and harnesses on the steep face with the prism, this allowed the job to be completed safely and accurately with both parties complementing each other's skill sets.
Schick are in the final throes of completing the 151-lot Teafields subdivision in Rototuna north of Hamilton, which had once been an 11Ha organic tea farm. "A lot of earthworks were completed through winter, despite the soil often being too wet to walk on prior to cement/lime stabilisation," explained Colin Vette. "Machine control helped to accurately place the pre-treated layers to the correct depth."
"We also have four contracts next door to each other in Dixon Road, Glenview. Within the development we are delivering a retirement village we've built in stages and we've nearly completed a dam to control stormwater, a sewer pump station, and a small residential subdivision. All of these are run off a single iCON iCG 60 base station."
"We now have a vast array of Leica equipment and run Leica Liscad as our primary computations software. We work faster and smarter using Global Survey's technology, but without their training and support it would take a lot longer to come up to speed."