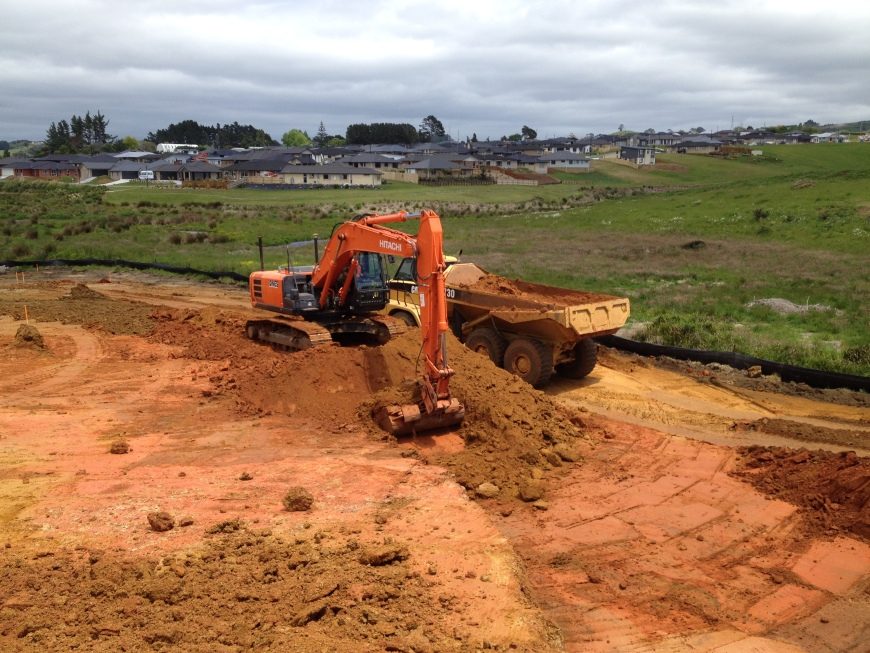 When State Highway 1 bypassed Pokeno just south of the Bombay Hills, many believed that would be the end of the town. Instead, a joint venture between Dines Group and Fulton Hogan is developing 200 hectares in a mixed use residential and employment complex, anchored by the $220 million Yashili Dairy Plant.
Yashili is one of the big three infant milk formula producers for the Chinese domestic market. They supply more than 105,000 retail outlets there, and have been importing New Zealand milk powder for more than ten years.
The dairy plant within Pokeno's Gateway Business Park expects to produce 52,000 tonnes of infant formula a year once completed, providing jobs for around 150 people and generating over $191 million for the country. It includes a range of process buildings, offices, warehouses, services and a 41 metre-tall drier, covering a total of 30,000sqm of their 67,100 sqm site. The DFH Business Park is made up of a further 272,000 sqm of industrial zoned land.
Overall, the Pokeno Village Estate offers a planned alternative to intensification in the greater Auckland region claims Jason Ware, Survey Manager at Dines. Situated roughly halfway between Hamilton and Auckland's CBD, the village complex will eventually service 2,000 homes and create approx. 1,500 permanent jobs across a range of industries. 500 residential lots have already been sold as at 30th April 2015, with 7km of pipework, 3.5km of roading and 700,000m3 of earthworks completed just this season. It's expected to be another ten years before the development is completed.
Dines' contracts stretch from Millwater at Silverdale in the north to Pokeno in the south – up to 100km away, and Jason Ware and his survey team are responsible for all survey and quality control work. The company has a reputation for thinking outside the square to deliver slick, well-coordinated and high quality developments across a wide range of topography. "Dines has a strong culture of producing quality work," he explains. "Every design is checked and/or adjusted for accuracy before the first sod is turned."
Modern developments rely heavily on modern surveying equipment, of course, and Dines' projects are no exception. While they operate one brand of equipment (Leica) across all operations, they have a mix of old and new equipment that interfaces seamlessly. This covers survey equipment, drainage lasers, rotating lasers and machine control systems; "everything from old 1200 rovers and bases through to the latest Viva and iCon, GPS and total stations."
Dines have purchased their own dedicated GPS radio frequency which allows them to increase their radio output from two watts to four. "This has not only eliminated any interference, but gives us coverage over the entire Pokeno project, even in the deepest gullies," he explains. It's already been shown to be very cost effective, with no down time while others share the frequency.
They have a permanent solar base station there operating 24/7. It was developed from an old 1200 back-pack rover system, with three solar panels providing energy that's stored in deep cell batteries. This gives it a run time of up to two weeks if no sunlight is available, according to Jason. It also means all survey crews and machines are working off the same plane without a surveyor or base station needing to be on site. This of course frees up equipment for other projects.
Dines currently have two Leica 3D excavator machine control systems in use, with a third on its way. Amongst their obvious use these are used as set-out tools when surveyors are busy elsewhere, delivering immediate productivity gains to the equipment they're fitted to and helping keep other machines that work with them more productive as well.
"One key to the success of our new Leica systems is having the right operators," he points out. "By having our top guys on the machine controlled equipment, we have another level of QA in the field. Nine times out of ten when they call me up to query a design, it's the design that's wrong not the machine."
Dines are constantly finding unexpected new applications for their Leica machine control systems, says Jason. "The machines have allowed us to speed up multiple operations, as well as doing away with labourers measuring road cut outs etc. In addition, we're able to complete tasks more accurately than ever before. Accuracy and efficiency are core values of the company."
As survey manager, he finds the telematics module invaluable. "This allows me to access machines anywhere at any time, to upload or download data to them. I can take over the screen and show operators what to do, or change settings, without having to be there."
A case in point recently was when an operator at Pokeno called him while Jason was driving through Mt Albert in central Auckland. "I pulled over, set up my laptop in the wagon, accessed his machine and got him sorted in ten minutes, then I was back on the road and he was back working. In the past, this might have cost me a couple of hours' travelling time for a round trip to Pokeno and back for a ten minute fix, before I could resume travelling to the other site. Telematics has already saved me days of driving and having to physically upload various designs and re-designs to the machines."
Global Survey has been supplying Dines' survey and machine control equipment for 20 years. "Time is money in this game and their backup service is second to none," claims Jason. "If our equipment breaks down, they'll get us back up and running really fast, or lend us something to keep us going in the meantime. They always listen to our specific needs and will come up with a customised solution if necessary."