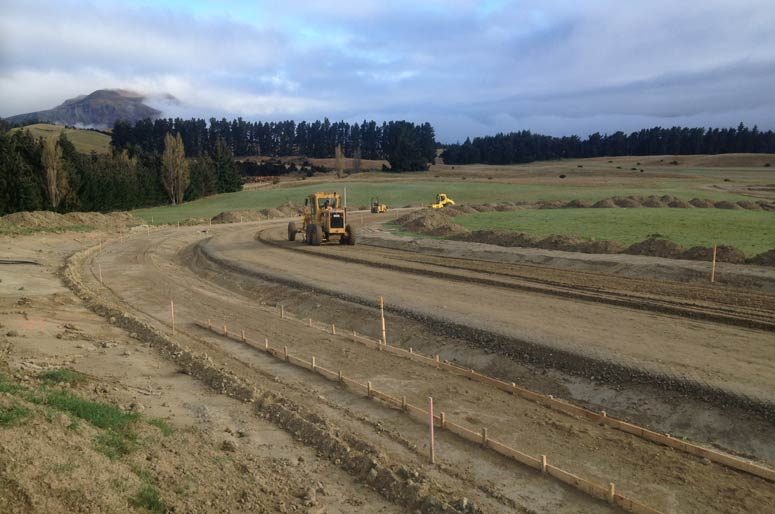 Saving time creates value for Civil Construction
Getting the best machinery for the job gives great results, but dealing with good people who can speak your kind of language is absolutely vital, says Civil Construction's Paul Horrell of Queenstown. 12 months ago, he bought a Rugby 810 and an 820 kit from Global Survey in Christchurch, and is delighted to find they have saved him time and created real value for his business, just as he was promised.
The Leica Rugby 810 and 820 rotating lasers are perfect for the earthworks and siteworks that form the bulk of Paul's work. "These are the first military-rated IP68 lasers, meaning they're pretty much water and dirt proof," he says proudly. He can now confidently create levels across any sloping surfaces at the first pass, which is ideal for the floor and house preparations he so often needs to do.
The Rugbys' versatile power supply allows Paul to power and charge up no matter where he is. "I can use an alkaline battery or a lithium-ion power pack, meaning I can run and charge either laser from my car, a 12V battery or generator, or even use the solar panel when the sun shines," he says.
With an impressive 800 metre-diameter operating range and self-levelling accuracy of just +/- 1.5mm at 30 metres, Paul's clients are very happy too.
Buying the 820 gave him improved concrete forming, pad placement and framework levelling capability that integrates very well with the rest of his Leica products. At the touch of a button, Paul and his staff can tie in slopes on a single or dual axis, automatically align them then monitor and correct the plane in real time.
Next came the Leica PowerGrade 3D grading system that snaps on to his dozer or grader and, says Paul, has really created value on site. "My guys can see everything on that screen. We can see the machine or the site however we want to, and on a good size screen. There are no connections or cables either, just a docking station that lets me swap panels between machines whenever I want to – and it remembers my settings! So the first pass is usually the last too." This immediately let Paul work faster, more efficiently and more profitably wherever in Otago or Canterbury his crew may be working
"Stringlines, stakes and hubs are a thing of the past," he claims happily. "We can now work anywhere on a project independently, confidently and more accurately, guided by a GNSS/GPS system."
With the confidence of a lifetime manufacturer's warranty, a five-year no cost period with a two year knockdown warranty, backed up by people he trusts, Paul is very happy with Global Survey. "I was involved with other brands for over ten years," he says, "but I'll never go back now. The products and the service from Global Survey are just too good."