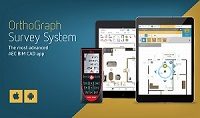 OrthoGraph Building Survey System Software
OrthoGraph floor plan survey system is a professional building surveying solution for professionals. This complex system includes different components, a mobile app running on iPad, cloud storage, server side applications and on-site features.
OrthoGraph Survey System, the professional building surveying application has 3 different available versions to use. Choose your App from the OrthoGraph Survey System according to your needs:
OrthoGraph Floor Plan is an application for highly precise and professional surveying jobs without the benefits of OrthoGraph's Cloud functionality.
OrthoGraph Cloud Client provides a full scale of mobile survey functionality paired up with the benefits of cloud services in one app.
OrthoGraph Tape Measure is an easy-to-use App supporting on site floor plan survey and reporting of small flats, homes.
The program runs on Android and iOS devices.
The program supports the following laser distance meters for direct data entry, Leica Disto D110, D510, D810, S910 (For the whole list click here: https://www.orthograph.net/help/)
Any version you choose will help you to be a rapid building surveyor: benefit from the unique sketch recognition functionality, measure wall lengths and diagonals, use curved walls, doors & windows, furniture and many more.
Watch the OrthoGraph Survey System Professional iPad floor plan survey App video:

Watch the video on the 16 most important features of OrthoGraph: