Introducing the next generation of machine control.
The civil construction industry is embracing intelligent construction to deliver increased productivity and improved safety. Digitisation enables projects to be completed on time, on budget and to the highest specifications. Intelligent construction enables contractors to make business decisions based on real-time data analysis and productivity reporting.
Leica Geosystem's world-class technology spans the entire construction lifecycle and includes solutions for design, site positioning, laser scanning, UAV's, machine control and much more delivered in an intuitive offering tailored to all levels of users.
---
COMING SOON: Leica iCON 3D machine control solution.
The next generation of machine control from Leica Geosystems combines advanced technology with simplicity.
The all new Leica iCON 3D machine control solution is a new cutting-edge technology platform, future-proofed to protect your investment. This single platform works across all makes and models of construction machinery and shares data seamlessly across mixed fleets.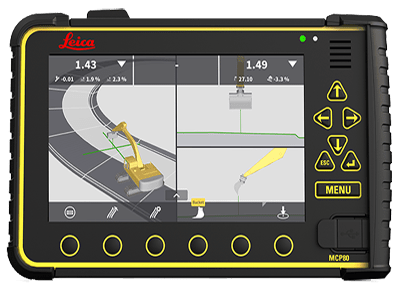 Intelligent simplicity.
One software platform across multiple machine types means it's quicker and easier to get your team up to speed with the latest technology. With a wizard configuration, embedded help, large buttons and shallow menu navigation, Leica MC1 is easy to learn and operate.
One panel, one software, complete control.
Designed to deliver maximum productivity, the Leica iCON machine control systems integrates one common software platform with one hardware that is interchangeable across your fleet. Now you can seamlessly transfer the cable-free control panel and software from one machine to another with automatic recall of your machine configuration and settings.
With the latest technology and powerful features the new Leica iCON 3D solution is designed for your projects now and into the future, protecting your investment and getting you ready for further technology advancement.
Work smarter with simplified data management.
The Leica iCON platform supports multiple machines for seamless project integration. Easily collaborate and seamlessly share data between machines, foreman and the office on a common platform.
Connectivity is assured with the integrated cellular modem enabling you to stay connected to your jobsite from anywhere in the world. With the fastest and most reliable 4G / 4GX modem you can sync data between field and office effortlessly and access remote support when needed.
Leica's cloud based ConX platform allows you to remotely manage data, analyse performance and obtain remote support to ensure you maximise productivity and minimise downtime.
Ruggedness you can rely on.
The Leica MCP80 control panel features a large 8″ display screen with anti-glare toughened glass and has been designed to withstand conditions on the harshest construction site. Built to tough environmental specifications, both the Leica docking station and MCP80 panel are designed to operate in extreme temperatures (-40 °C to +65 °C) and are water, vibration and shock proof.
---
Leica iCON 3D machine control solutions:
---
We're with you every step of the way.
Our expert team deliver the service and support you need, when you need it. We have the technical expertise and experience to deliver prompt, high-quality support that minimises your downtime and keeps you working.
We deliver complete site solutions across Civil Construction and Surveying including equipment, software and services such as our SmartFix RTK Network.
As your technology experts we provide a complete range of onsite solutions and are with you every step of the way. Our industry-leading service and unparalleled support takes care of the installation, calibration, training and maintenance of all equipment, so you can focus on what you do best. Call out expert machine control team 0800 453 422.
Put the NEW Leica iCON 3D machine control solution to the test. Request a demo.