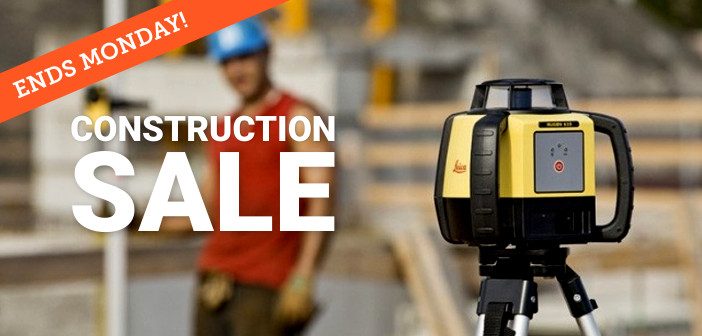 Sorry this promotion has ended. Don't miss out on future promotions, subscribe now to receive industry news and product specials straight to your inbox.
Grab a Great Deal on Leica Lasers, Pipe Lasers, Levels and More!
Leica Rugby 640 Laser Package

Suitable for all construction applications with ability to level, align and square. Self-levelling, horizontal & vertical, 90° and manual slope in dual axis. Includes: Leica Rugby 640 Laser, Receiver, Bracket, Battery Pack, Case, Aluminium Tripod & Levelling Staff.

***SAVE $360***

Leica Rugby Upgradable Laser Package

Easy to operate, one-button horizontal laser for concrete, formwork and land levelling applications. Upgrade at any time in the future when you need more functionality. Includes: Leica Rugby CLA Basic Laser, Receiver/Remote Control, Case, Aluminium Tripod & Levelling Staff

***SAVE $335***

Leica Piper 200

The only pipe laser that fits inside a 100mm pipe. Built with solid cast-aluminium housing and loaded with features to improve productivity. Includes: Pipe Laser, Case & Alignmaster for second day set up.

***SAVE $780***

Leica Disto D810 Touch

The world's first laser distance meter with a touch screen, allowing for quick and intuitive operation. Features include: Pointfinder with 4x zoom, overview camera with USB download, measure with a picture and precise 360° tilt sensor.

Was $1,299  Now $1,099 

***SAVE $200***

Leica NA332 Optical Level 

Robust and value-priced automatic building and construction level. Quick to set up, simple to use and reliable. The automatic compensator and fast optics speed up measurement onsite. 32x magnification for superior accuracy over long distances.

Was $349 Now $299 

***SAVE $50***
Have a technical question? We're here to help, contact our expert team:
---
*Terms and conditions apply. Subject to availability. Only while stocks last.
SHARE THIS ARTICLE