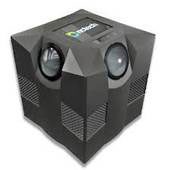 iStar 360⁰ Panoramic Camera
Enquire Now
With the iSTAR the a 50 megapixel spherical image is captured instantly in one single shutter release. The final image is ready in under 10 seconds. Current 360 degree imaging systems typically require around 10-15 mins to capture and generate a 50 megapixel spherical image. This rapid speed of capture together with the iSTAR's light weight small size and zero setup time allows multiple locations to be photographed in minutes, not hours. Image data can be easily integrated into point cloud software for creating photo realistic point clouds.
Core
The Core module is included with every Neo system. Core includes functionality for:
– 2D/3D graphical selection, editing and viewing
– Layer and attribute definition and editing
– Examining objects
– Finding objects by any attribute
– Configuring / tailoring all aspects of a project (display, precision, units, reports, coordinate systems, annotation styles, colours and more)
And much more.
Xchange
Neo Xchange modules seamlessly transfer information to and from GIS (ESRI), BIM (IFC/IFCzip), AutoCAD, Google Earth, Leica DBX, XML, LISCAD and many other systems, making it extremely versatile for combining, manipulating and moving data between various office systems and/or the field. Neo Xchange allows you to deliver product in the client's desired format.
Solve
The Solve module incorporates rigorous geodetic coordinate geometry (COGO) computations based on a selected coordinate system for creation of new geospatial objects including points, lines, polygons, annotations and images.
Transform
The Transform module allows transformation between different coordinate systems.